WRAP MONTHLY UPDATE – FEBRUARY 2021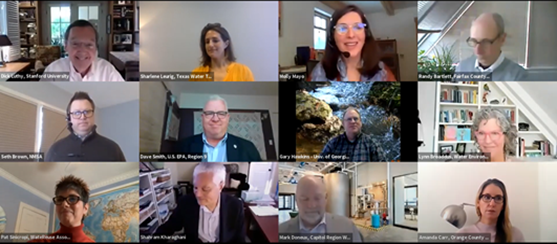 Stormwater Capture Drivers, Impediments, and Future Visions webinar
Webinar Series on Stormwater Harvesting
Capture Drivers, Impediments, and Future Visions: A group of stormwater management leaders from around the U.S. examined stormwater capture motivations and drivers, barriers to progress, and future directions. Discussion questions pertained to why communities are currently pursuing stormwater capture for use, how community interests in stormwater harvesting vary across the country, and where we want to be with stormwater capture in 20 years. The webinar was attended by over 350 participants. The recording is available here.

Treatment Standards for Stormwater Capture and Use: How Are We Doing?: Public agencies and researchers are working to identify the level of treatment needed to safely use captured stormwater and rainwater. This webinar, attended by 310 participants, explored how agencies are tackling this issue and reviewed current efforts to establish treatment standards tailored to stormwater and rainwater use. The recording is available here.

These webinars are the first two of a series of four developed as part of WRAP Action 3.3: Convene Experts on Urban Stormwater Capture and Use and are co-sponsored by the WateReuse Association, EPA, National Municipal Stormwater Alliance (NMSA), Re-Inventing the Nation's Urban Water Infrastructure (ReNUWIt), Water Environment Federation, and Johnson Foundation at Wingspread (JFW).
You asked, we listened!
On March 5, we dropped the first "2" across all WRAP action numbers. For example, what was previously referred to as Action 2.3.1 is now Action 3.1. Please update your materials to correct action numbers and check for broken links.
Non-Potable Environmental and Economic Water Reuse (NEWR) Calculator
The NEWR calculator is simple to use web-based tool for screening-level assessments of source water options for any urban building location across the U.S. that is considering onsite non-potable reuse. EPA presenters Jay Garland, Cissy Ma, and Michael Jahne shared updated fit-for-purpose risk assessments and life cycle comparisons of non-potable reuse scenarios and provided an overview of the NEWR tool in a webinar. This webinar and NEWR tool are affiliated with WRAP Action 3.4: Develop Research and Tools to Support the Implementation of Onsite Non-Potable Water Reuse Systems.
Understanding of Current Aquifer Storage and Recovery Practices webinar
The Ground Water Protection Council Aquifer Storage and Recovery/Managed Aquifer Recharge Workgroup hosted a webinar as part of the Groundwater and Underground Injection Control (UIC) Educational Series. EPA presenters Justin Mattingly, Thomas Johnson, and Kara Goodwin provided updates on the state of practice for water reuse, stormwater, and UIC. Presentation slides and the webinar recording are available here. This webinar is affiliated with WRAP Action 7.4: Increase Understanding of Current Aquifer Storage and Recovery Practices.
Empowering Youth for Water Security program
In advance of World Water Day on March 22, the U.S. Department of State Bureau of Oceans and International Environmental and Scientific Affairs and the Bureau of Global Public Affairs hosted an interactive program titled, "Empowering Youth for Water Security." The program was designed to support young professionals seeking to develop careers in the water-related sectors by profiling the interdisciplinary nature of professional development opportunities. The expert panel represented different career paths in water resources management - civil society, government, and the private sector - and explored several example careers in each. The webinar recording is available here. This webinar is affiliated with WRAP Action 11.2: Raise Global Awareness and Preparedness for Water Reuse and the WRAP.
WRAP Involvement at the WateReuse Symposium
The 36th WateReuse Virtual Symposium launched on March 1 with a live opening general session.
Four live roundtable sessions will feature Water Reuse Team members and action leaders:
3/16, 12-2:30pm ET: Water Recycling and Public Health
3/22, 1-3:30pm ET: Implementation and Operation of Water Recycling Systems
3/23, 1-3:30pm ET: Water Reuse Research and Innovation
3/24, 2-4:30pm ET: Water Recycling and Policy
Five recorded technical sessions feature WRAP-related content and action team members:
If you would like updates about WRAP action implementation progress or news from across the water user community to be considered for inclusion in an upcoming WRAP Monthly Status Update, please email waterreuse@epa.gov.