JUNE 2022
Reuse and Action Highlights
For more details about the following highlights and events, please visit the Recent and Upcoming Water Reuse Activities page.
FUNDING AND INVESTMENTS
EPA Announces $6.5 Billion in Funding for Water Infrastructure Projects

– Established by the Water Infrastructure Finance and Innovation Act of 2014, WIFIA is an EPA grantee program that aims to accelerate investment in the Nation's water infrastructure by providing long-term, low-cost supplemental loans for regionally and nationally significant projects. The notices of funding availability include $5.5 billion for the WIFIA program and an additional $1 billion for the State infrastructure financing authority WIFIA (SWIFIA) program. This round will prioritize funding in four areas:

Increasing investment in economically stressed communities
Making rapid progress on lead service line replacement
Addressing PFAS and emerging contaminants
Supporting one water innovation and resilience

DOE and NAWI Award $17.7 Million to Accelerate Energy-Efficient Water Treatment Technology Development – The U.S. Department of Energy (DOE), in partnership with the National Alliance for Water Innovation (NAWI) Hub, announced the selection of 16 projects that will help the U.S. secure an affordable, energy-efficient water supply. Selected projects will develop innovative desalination and reuse technologies that can treat nontraditional water sources (e.g., brackish water, seawater, and industrial wastewater) and shrink the carbon footprint of the water-treatment industry. Find out more about the projects here.
EPA Announces $18 Million for Training and Technical Assistance for Small, Rural, and Tribal Wastewater Improvements – $18 million is now available in federal funding to build the pipeline of technical assistance providers that can serve small, rural, and Tribal municipalities through the Clean Water Act Prevention, Reduction, and Elimination of Pollution Grant Program. This investment delivers on President Biden's Justice40 initiative and will support technical assistance providers to help utilities improve vital wastewater management, including water reuse, that is essential to healthy communities. The funding will also elevate impact from Bipartisan Infrastructure Law (BIL) funding available to small, rural, and Tribal communities. For more information about this program and funding announcement, look here.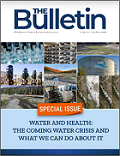 PUBLICATIONS AND PRESENTATIONS
STATE REUSE REGULATION DEVELOPMENTS
Regulating Direct Potable Reuse in California – The California State Water Board's Division of Drinking Water is carrying out a series of legislative mandates regarding Direct Potable Reuse (DPR). DPR is the planned introduction of recycled water either directly into a public drinking water system or into a raw water supply immediately upstream of a drinking water treatment plant. This June, an expert panel released recommendations based on the draft DPR criteria.
Update on Arizona Potable Reuse Rulemaking – The Arizona Department of Environmental Quality is in the early planning stages of beginning rule modification to provide a clear permitting process and regulatory standards for Direct Potable Reuse. See their latest stakeholder update here, courtesy of WateReuse Arizona, and sign up to get updates from the Arizona Department of Environmental Quality.
If you have questions about water reuse, progress or news on WRAP actions, or reuse activities that you would like EPA's water reuse team to consider for inclusion in an upcoming monthly status update, please email waterreuse@epa.gov.
To unsubscribe from future such notifications, please reply to this email with the word "Unsubscribe" in the subject line.
EPA established this listserv to communicate occasional updates about the progress that federal, state, tribal, and local partners across the water user community have made to advance the consideration of water reuse. Your personal contact information has not been shared with third parties.